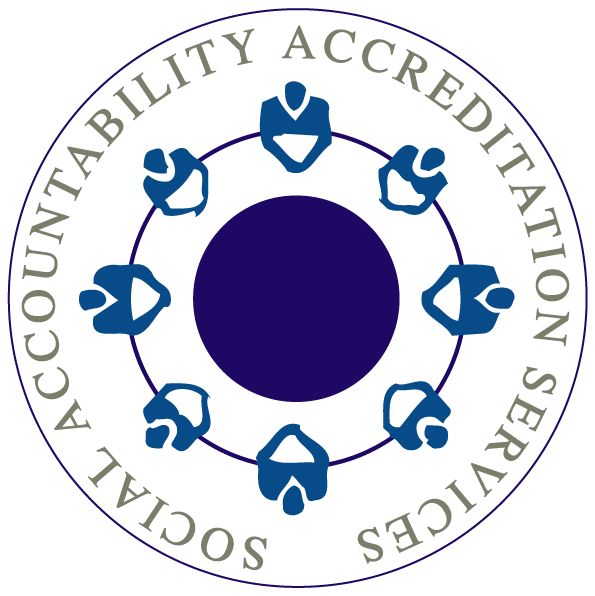 Social Accountability Accreditation Services (SAAS) provides assurance for the SA8000 certification program as the official accreditation body for SA8000 Certification Bodies (CBs). SAAS-accredited CBs are the only bodies authorized to conduct SA8000 audits and issue legitimate certifications.
This page describes all fees that apply to CBs during the accreditation application and assessment process, during the accreditation period, during the reaccreditation process, and if an accredited CB chooses to seek a scope expansion for their accreditation.
A full, technical description of the SAAS fee schedule is available to download.
SAAS Accreditation Fees – Overview
Service
Fee (in USD)
Purchase a printed copy of the application package
(not required)
$100.00
Download an electronic copy of the application package
Free
Initial accreditation application fee
Covers receipt and initial review of the application material.
$7,500.00
Reaccreditation application fee
Covers receipt and initial review of the application material.
$5,000.00
Accreditation (including reaccreditation) and surveillance audits
CBs are directly responsible for the cost of travel including airfare, meals, and hotels, and the cost of interpretation if needed.
$1,400.00 per auditor per day, plus $650.00 per day for travel
SA8000 royalty fee

(under review)



$5,000.00 or 3% of gross auditing fees (annual)
Professional Development
CB auditors and staff are required to attend SAAS-accredited or approved auditor, advanced auditor, and professional development training courses.
Approximately $1,200.00 to $2,000.00 per person per course
SA8000 Calibration Meetings
CB managers and field auditors must periodically attend SA8000 calibration meetings to increase alignment between each auditor's interpretations of SA8000 auditing requirements.
Free or minimal participation fee, attendees responsible for personal travel costs
Application Fee for scope extension
Administrative fee for CBs seeking to add locations to their accredited certificate scope.
$100.00
SAAS Accreditation – Audit Days
The number of audit days required for initial accreditation and/or reaccreditation varies and is based on several factors, including: number of documents in document review; size of the organization being audited (for office audit); stage in the audit cycle (i.e. accreditation or surveillance audit); details of the audit plan (for witness audit); and number of required travel days. The average number of audit days required for various stages of accreditation and reaccreditation are listed below. Procedure 201A provides the estimated number of days and additional details for initial accreditation.
| Audit Item | Average Number of Auditor Days |
| --- | --- |
| Document Review | 1-2 days |
| Office Audit | 1-2 auditors for 2-3 days |
| Witness audit | 2 auditors for 2-3 days |
| Report writing | 1-2 days |
Should an audit be cancelled or expenses be increased due to unforeseen circumstances, the CB shall be responsible for all related expenses. The CB is responsible for actual travel and accommodation expenses incurred prior to the cancellation. In the case of a confirmed assessment that is cancelled by the applicant or accredited CB, the CB shall be responsible for paying the cost of the assessment as outlined in Procedure 406, clause 6.4.