This was a limited program which is now complete.
Advancing Labor Rights in Agriculture
Program Duration: 2007–2011
Project Cultivar Description
The goal of Project Cultivar was to build ethical market access for agricultural producers in Nicaragua, Honduras, and the Dominican Republic through compliance with labor and environmental standards. Cultivar aimed to create a culture of compliance in a challenging sector for labor rights.
Recognizing a lack of access to social protections, severe health risks, and stark barriers to social dialogue in agricultural sector in these target countries, Project Cultivar aimed to:
Empower workers to exercise their rights
Increase employers' commitment and capacity to continually improve labor conditions
Strengthen government's capacity to fulfill its mandate to enforce labor laws
Objectives
Increase knowledge of fundamental labor rights among workers and employers
Increase capacity among employers to implement systems of continuous improvement in occupational health and safety
Improve capacity among workers to exercise labor rights
Build consensus for improvements in the agricultural sector by convening consultative groups and round-tables
Strengthen capacity of Ministry of Labor inspectors in the region
Assure sustainable compliance with national labor laws and norms by implementing management systems
Identify, document, and evaluate risks and instances of non-compliance with labor laws
Establish mechanisms to document and present workplace issues to management and local government channels as necessary
Project Cultivar Outcomes
Strategy 1: Strengthen Local Leadership
SAI's local partners in Cultivar have strengthened their leadership as proponents of labor law compliance. Highlights include:
INCAP and CIAC undertook national cholera prevention planning for the Dominican banana and sugarcane sectors;
CDH was invited by the Honduran tripartite Socio-Economic Council (CES) to deliver a workshop on promoting social dialogue to a regional forum peer Councils, which represent the national social dialogue structures in their three respective countries;
CIAC was tapped by the Canadian International Development Agency to provide technical assistance to the Dominican Labor Ministry on overall and specific safety and health strategies
Strategy 2: Build Capacity of Workers, Managers, and Labor Inspectors
"Project Cultivar has had the vision to provide workshops on labor rights, giving workers and managers the tools to resolve their issues internally. They no longer need an intermediary."

Candida Rosa Rodriguez, Ministry of Labor, Nicaragua
Project Cultivar worked with a total of 38 farms and factories in the banana, melon, and sugarcane sectors and trained a total of 2,546 workers, managers, labor inspectors, and other government officials from 2007–2011. SAI and local partners developed and delivered training workshops focused on national labor laws, management systems for occupational health and safety, and internal complaint resolution mechanisms. Highlights include:
In Nicaragua, trained 100 percent of farms in the banana industry
In Nicaragua, Finca Coquimba's owner attributes to Cultivar the fact that his banana farm rose to the first place nationwide in Chiquita's supplier ratings for production quality and productivity (boxes packed per hectare)
In Honduras, development of a Certificate Program in Social Dialogue, Labor Relations, and Management Systems with the Autonomous National University of Honduras (UNAH) The inaugural class of 32 included employers, trade union leaders, government officials, and academics.
In the Dominican Republic and Nicaragua, popular education materials were developed and published on labor rights (in Spanish and Haitian Creole in the DR), for agricultural workers and employers.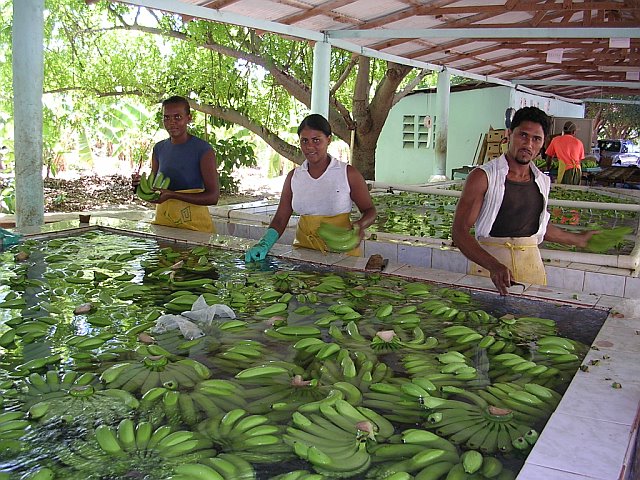 Strategy 3: Facilitate Social Dialogue
"Workers are more conscious of their health and more productive. We have a union at Coquimba and it is very involved in the process."

Eduardo Ubillo, Owner, Finca Coquimba, Nicaragua
Project Cultivar convened 24 multi-stakeholder meetings for workers and their trade unions, producer and buyer companies, government ministries, and other key stakeholders to discuss and develop strategies to address labor compliance challenges that are beyond the capacity of an individual farm to resolve. Highlights include:
In Nicaragua, re-activation of the Chinandega Department Council for Occupational Health and Safety, a tripartite body mandated by law to oversee OSH in the department, by providing meeting space and convening regular meetings, which participants have committed to sustain
In the Dominican Republic, the roundtable meetings in the sugar sector represented groundbreaking dialogue among Haitian workers, colonos (producers), sugar companies and government officials, a historic precedent in a sector whose history is tainted with instances of slavery-like conditions
The consultative group in the Dominican banana sector engaged Haitian and Dominican immigration authorities and the military and agreed on a permit to facilitate workers' movement in the Northwest region.
Resources
---
Project Cultivar Partners
Local Partners
Honduras
Centro de Desarrollo Humano (Center for Human Development)
Dominican Republic
Centro de Investigación y Apoyo Cultural (Center for Cultural Research and Support)
Dominican Republic
Instituto para la Cultura y Autogestión Popular de la Región Noroeste (Institute for Culture and Local Self Reliance of the Northwest Region)
Nicaragua
Profesionales para la Auditoria Social Empresarial (Professionals in Social Auditing of Business)
---
Related Programs
Living Wage A living wage meets a worker's basic needs to maintain a safe, decent…
Palma Futuro Toward an ethical global palm oil industry Palma Futuro aims to build up…
FairCapacity Program Reducing labor risks through better production planning and transparency. The FairCapacity Program (previously…